Product Description
With the increasing of aging population and high-energy injury, occurrence rate of trochanter fracture is increasing. Some elderly patients who perform the traditional therapy will hardly recover, and also lying in bed for long time will result in trochanter varus and other complications. Therefore early surgery is considered the efficient way for reducing complications and improving life quality.
Young patients and patients with good bone condition can perform the early surgery, which is the efficient way to reduce complications such as femur necrosis, malunion and so on.
Currently, implants therapy performed for trochanter fracture has the problem of large wound, long operation time and much more complications.
CanEFN offers two kinds of proximal fixation, which can not only offer stable fixtation for elderly patients and osteoporosis patients, but also can offer dynamic fixation for young patients and patients with good bone condition.
Product Name
CanEFN Proximal Expert Femoral Nail, Orthopedic Femur Intramedullary Implant
Material
Titanium.
Color
Customized
Standard
ISO 13485,ISO9001,QSR820,CE
Size
Length:300/320/340/360/380/400/420/440/460mm
Product design philosophy:
*Biomechanical stability fixation
*Minimally invasive operation technology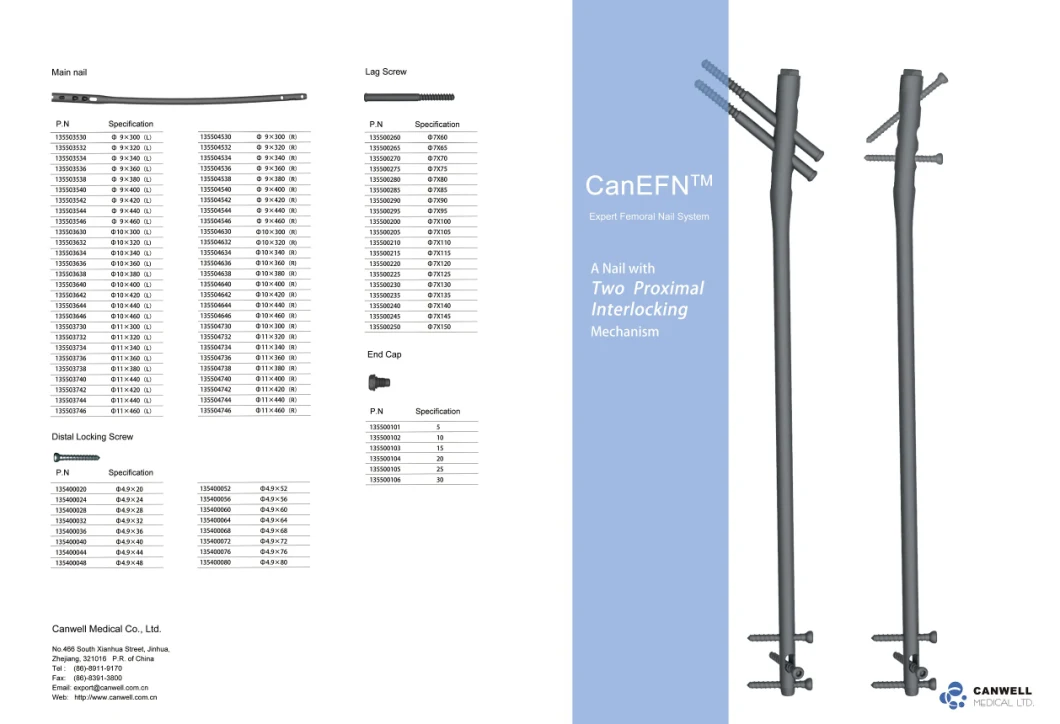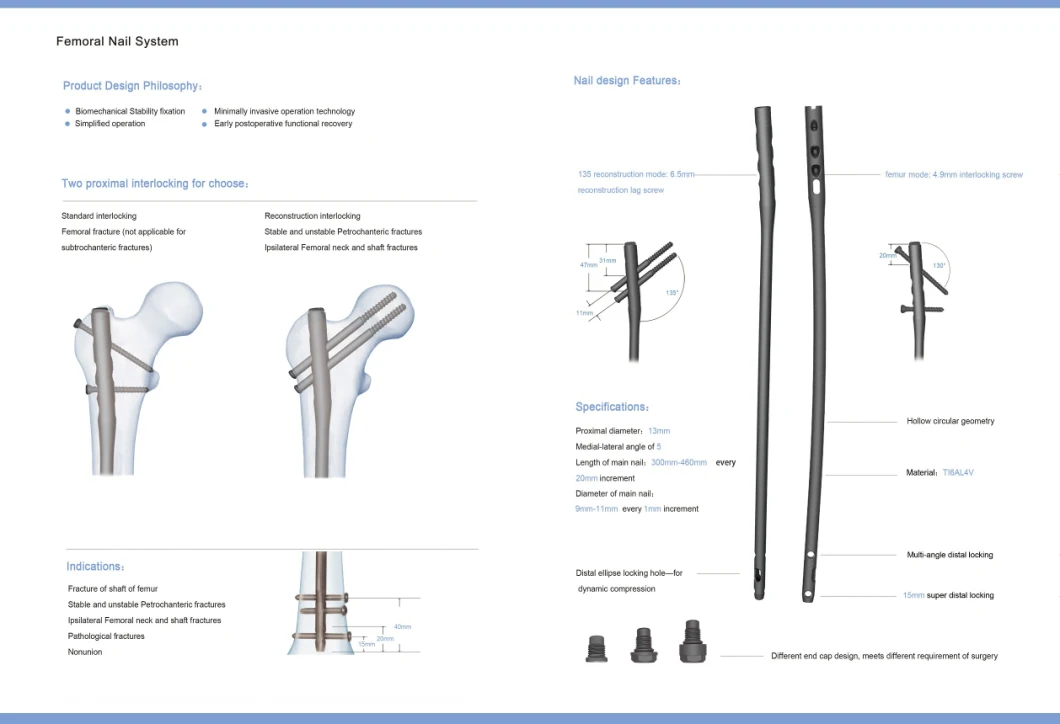 FAQ
Q: Trading company or manufacturer?
A: We are manufacturer since 1994. Our location is in Jinhua, Zhejiang Province, East China.
2 hours by high-speed train from Shanghai.
Q: How's quality? Any Certificate? Regions of sales?
A: Our products are approved by CE/ISO13485.
At present our main overseas markets are Asia, South America and Europe.
Q: Regional Distribution?
A: Yes we are looking for and welcome distribution.
Please contact us for discussion if you are interested to become our distributor.
Q: How long is delivery time?
A: Generally 7-15 days if stock available and 30-45 days if regular production needed.
Depending on order quantity, product type, and other order factors and requirements.
Q: Samples available? Free or extra ?
A: We can accept sample order. With extra price.
Q: Terms of payment ?
A: T/T.
Q: OEM service available??
A: We can offer OEM service. Products can be made-to-order and with special requirements.